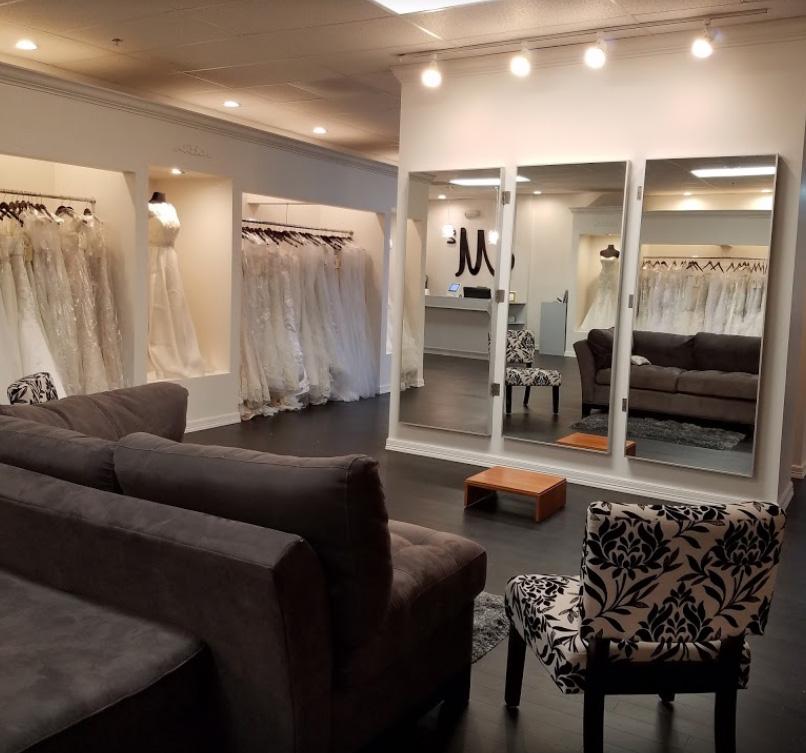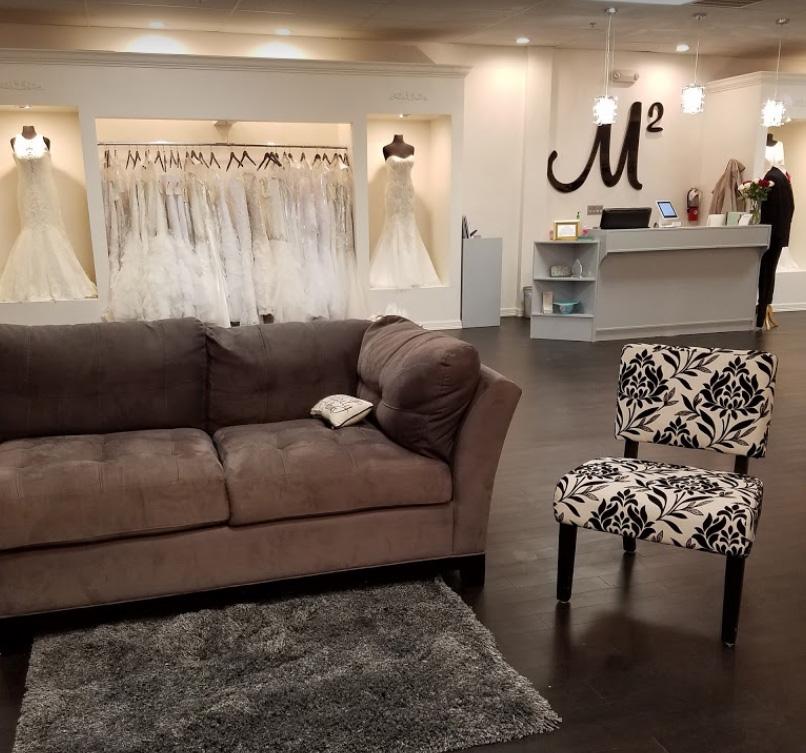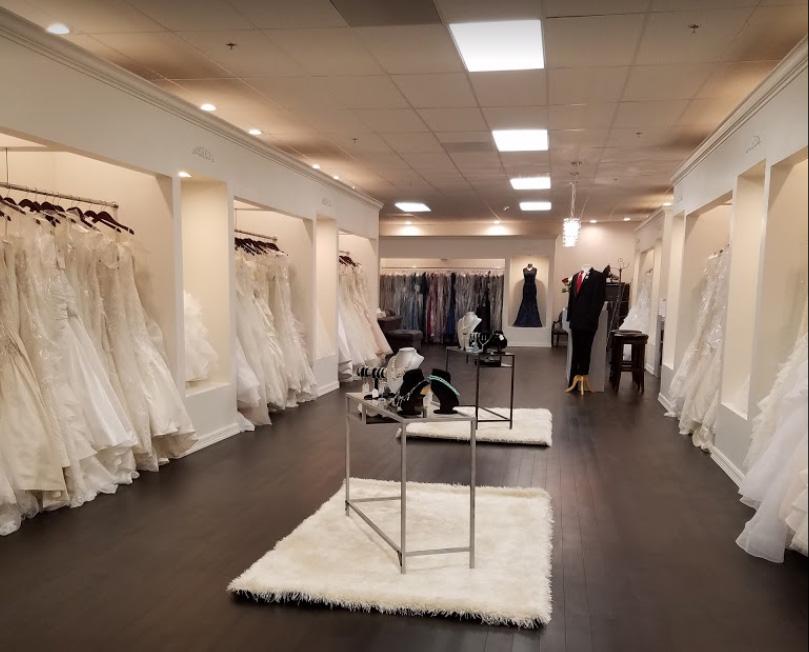 FAQ
DO I NEED TO MAKE AN APPOINTMENT?
YES Please! Bridal appointments are necessary to try on wedding gowns, Mother of the Bride/Groom and Bridesmaids at M2 Bridal We ask for a credit card to hold your appointment as we want you to have the full experience . Bridal appointments are an hour and a half long and for a more intimate experience you can request a private appointment after hours (there is a fee for private after hours appointments).
WALK-INS
Only if schedule permits, we can accommodate walk-ins, as pre-scheduled appointments have priority.
WHAT SHOULD I BRING TO MY APPOINTMENT?
Many ladies prefer to bring their own strapless bra, as we do not provide them. Underwear is required, and white or nude is recommended for lighter gowns. Your consultant will benefit from any inspiration images you may have. Above all, we suggest bringing a positive attitude and the expectation of falling in love with something! Being prepared to make a purchase on your initial appointment, because you never know what is in our store for you.
WHOM SHOULD I BRING WITH ME?
Through our experience, we have found it best for everyone involved to keep your group intimate. Seating capacity is at three to four additional guests. Beyond that, the extra opinions make the process very confusing for the bride and space becomes limited.
ARE CHILDREN ALLOWED IN YOUR STORE?
M2 Milan Bridal kindly requests you do not bring children along to the appointment, as it can disrupt the environment for other brides, as well as being a safety hazard for the child and the delicate nature of our products.
WE WOULD LIKE TO CELEBRATE WITH A TOAST. IS THIS ALLOWED?
We ask that food and drink are not brought into the store, to preserve the delicate merchandise and our surroundings.
WHAT FORMS OF PAYMENT DO YOU ACCEPT?
All major credit cards, cash and check are accepted on initial deposits. However, on final payment, or when goods are leaving the store, a personal check can not be accepted. M2 Milan Bridal offers flexible payment plans, if need be. A 50% down payment is required for all special orders, and layaway. Any form of deposit is a binding contract in agreement to pay the entire due balance.
WHAT IF I HAVE A BRIDESMAID THAT CAN'T COME INTO THE STORE?
Not a problem! We service bridesmaids all over the world. Have your bridesmaid call us and we can easily assist her as if she were in our store.
HOW DOES BRIDAL AND SPECIAL OCCASION SIZING RUN?
Most designers' charts start at a size 2 or 4 and continue to size 28 or 32. Bridal gowns are cut differently than normal clothing. Most brides find they are approximately 1-2 sizes larger in bridal gowns than in typical clothing. Please understand that many manufacturers may mandate a size charge for gowns sized over 18 and the cost is not included in the price of the sample garment.
WHAT SIZES DO YOU HAVE IN STOCK?
We stock from size 2-32 in bridal and gowns. Our Bridesmaid selections are sample sizes by the manufacturer but our professional staff is very on point when taking measurements.
AFTER MY ORDER IS PLACED, HOW LONG WILL IT TAKE FOR MY GOWN TO ARRIVE?
Your special order is placed immediately following your visit with us. On average, a wedding gown will take approximately six (6) to nine (9) months to arrive. If custom changes are made, the latter is more likely. A mothers gown takes approximately four (4) to six (6) months. In both cases, please allow alteration time, which is generally two months. Rush shipping is occasionally available, case by case and at an additional charge. It is important to realize retailers have no foresight or control over production and delivery, so it is best to choose your gown early!
MY SPECIAL ORDER IS IN, NOW WHAT ?
M2 Milan Bridal will call you when your items have been received and are ready for pick-up. We request a week-day pick -up on gowns, due to busy weekends for appointments. We ask you to try on your gown, with the assistance of a consultant, so your special purchase is kept safe. Furthermore, you will likely have further questions or shopping to do and we need to have someone ready to serve you!
DOES M2 MILAN BRIDAL OFFER ALTERATION SERVICES?
Upon request, we are happy to offer reputable and unaffiliated referrals for you to take your gown to be altered.
DO YOU ACCEPT RETURNS, REFUNDS EXCHANGES, CREDITS, TRANSFERS OF CREDITS?
It is industry standard that all sales are final. This includes both out-of-inventory purchases as well as special orders. Once the manufacturer receives a special order, immediately following your visit with us, the pattern begins to be cut and putting a stop to the order is not possible. Any form of deposit is a binding contract in agreement to pay the entire due balance.
DO YOU OFFER GOWN CLEANING OR PRESERVATION?
Absolutely! M2 Milan Bridal proudly offers the kit services of The Wedding Gown Preservation Co. You simply purchase a compact kit from us and take it home to begin the process. You package your gown and accessories and your shipping label is included. From there, simply wait about 10 weeks and your gown comes back cleaned and preserved in a window box to be kept safely for generations!
Does M2 Milan Bridal Sell Off The Rack ?
Yes we do !!
Privacy Policy
Thank you for visiting our web site. This privacy policy tells you how we use personal information collected at this site. Please read this privacy policy before using the site or submitting any personal information. By using the site, you are accepting the practices described in this privacy policy. These practices may be changed, but any changes will be posted and changes will only apply to activities and information on a going forward, not retroactive basis. You are encouraged to review the privacy policy whenever you visit the site to make sure that you understand how any personal information you provide will be used.
Note: the privacy practices set forth in this privacy policy are for this website only. If you link to other websites, please review the privacy policies posted at those sites.
Collection of Information
We collect personally identifiable information, like names, titles, addresses, email addresses, etc., when voluntarily submitted by our visitors. The information you provide is used to fulfill you specific request. This information is only used to fulfill your specific request, and for future newsletters focusing on the same subject as your request (ex. wedding dresses). We do not share our mailing list with anyone, ever.
Cookie/Tracking Technology
The Site may use cookie and tracking technology depending on the features offered. Cookie and tracking technology are useful for gathering information such as browser type and operating system, tracking the number of visitors to the site, and understanding how visitors use the site. Cookies can also help customize the site for visitors. Personal information cannot be collected via cookies and other tracking technology, however, if you previously provided personally identifiable information, cookies may be tied to such information.
Online Advertising
We have active Google Adwords campaigns collecting cookies from our web users. This information is used for conversion and remarketing purposes.
You should be informed of the following:

We regularly implement and use Display Advertising. Visitors can opt-out of Google Analytics for Display Advertising and customize Google Display Network ads using the Ads Preferences Manager. We may use Remarketing with Google Analytics to advertise online. Third-party vendors, including Google, show our ads on sites across the Internet. We and third-party vendors, including Google, use first-party cookies (such as the Google Analytics cookie) and third-party cookies (such as the DoubleClick cookie) together to inform, optimize, and serve ads based on someone's past visits to your website Distribution of Information
We may share information with governmental agencies or other companies assisting us in fraud prevention or investigation. We may do so when: (1) permitted or required by law; or, (2) trying to protect against or prevent actual or potential fraud or unauthorized transactions; or, (3) investigating fraud which has already taken place. The information is not provided to these companies for marketing purposes.
Commitment to Data Security
Your personally identifiable information is kept secure, in PCI-compliant, secure, e-commerce certified servers.. Only authorized employees, agents and contractors (who have agreed to keep information secure and confidential) have access to this information.
Privacy Contact Information
If you have any questions, concerns, or comments about our privacy policy you may contact us. We reserve the right to make changes to this policy. Any changes to this policy will be posted.